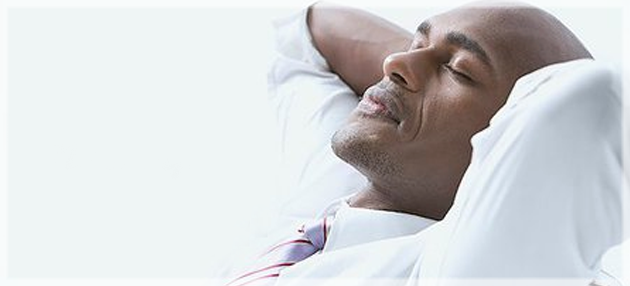 Stress costs U.S. corporations over $300B annually
Don't let stress cost your business another penny
The American Institute of Stress estimates that stress in the workplace costs U.S. corporations over $300 billion annually. And, this figure was calculated years before our recent economic crisis, meaning it's a lot greater today. Stress in the workplace is the new norm. It's not going away. It's not shrinking. It is just something we have to get better at managing.
The good news is that we are NOT powerless against the effects of stress. We can use simple tools to manage it and learn some very specific skills to cope when it can't be avoided, thus allowing productivity to soar in the workplace.
The Research & History
The Research
Stress & The Body:
A LITTLE stress can be a useful energizer and motivator for getting things done, right? Well… maybe not. While a little stress here and there might be okay, all too often we see stressful situations build up over time and become chronic. At that point the body responds by taking you out of your relaxed "parasympathetic" nervous system and into your "sympathetic" nervous system. This is better known as your "fight or flight" response.
Scientists have found that the "flight or fight" response originally evolved to assist the body in emergency circumstances so that it could avoid any imminent life threatening risk. In the "flight or fight" mode the brain immediately detects an external negative stimulus and reacts within seconds by pumping the body with loads of chemicals like cortisol, adrenaline and norepinephrine. This response allows for an immediate "fight or flight" reaction. As the chemicals instantly course through every vein in the body people are sometimes able to perform superhero-like responses! But after such a powerful surge, the body needs plenty of down time to recuperate.
With the relentless pressures felt by millions today, research is showing that large numbers of the population exist in a CONSTANT state of "fight or flight" mode – with no time to relax and rejuvenate. This state of being depresses one's ability to access their rational mind, distorts decision making capabilities, shuts down creativity, diminishes personal and professional motivation levels and often leads to a complete state of burnout.

Business ROI
Business ROI
According to the National Institute of Stress – Stress costs US Corporations over 300 billion a year in lost productivity. The use of Meditation, Guided Imagery and Mindfulness is now being widely embraced by corporations, organizations and small business enterprise all over the world to combat this epidemic.  There is a new awareness that it's use gives direct benefit to employees and employers in more ways than originally anticipated.  Studies are now showing that there is a measureable ROI on the small amount of time and energy it takes to implement this simple and effective practice into the workplace.
Allowing employees to take short meditation breaks during their workday has been show to improve productivity, creativity, innovation, problem solving skills, previous communication issues, employee job satisfaction and moral, which leads to increased customer engagement, emotional intelligence and happiness in the workplace and most importantly it also leads to a noticeable reduction in sick days and absenteeism.
A number of companies are setting up "Quiet Rooms" for employee to use during breaks to recharge.  Meditation is currently being embraced by Google, Apple, Nike, Proctor & Gamble, General Mills, AOL Time Warner, Huffington Post, HBO, Deutsche Bank, eBay, US Army, Florida Bar Association, Yale Law School, Canadian Justice Department, Hearst Publications, GlaxoSmithKline and Harvard Medical School to name just a few.  Companies big and small can benefit from implementing time for mediation and guided imagery into the workplace. Interested? Contact us to find out more!

Put meditation to work for you today
Over the past decade, a growing number of organizations have discovered the advantages of offering their employees a chance to learn about how meditation can be an effective tool to reduce stress in the workplace. Research indicates that employees who adopt a "wellness plan" that includes a meditation practice, often experience less stress, more job satisfaction and increased productivity. Introducing meditation to your employees is truly one of the most successful, easy and natural ways of dealing with today's ongoing stress epidemic.
At the Meditation Prescription our specialty is recorded guided meditations that help alleviate stress. Our meditations include guided imagery, self-introspection, affirmations, mindfulness, deep breathing and the most cutting edge techniques available to enable your employees to quickly and easily develop a practice specific to who they are and what they need. Our meditations were developed over the past decade based on our working experience with more than 10,000 individuals seeking to reduce stress in their lives.
We offer an entire "tool-box" for organizations – big or small – looking to introduce meditation to their employees. We tailor our "tool-box" to work with each organization's individual needs, budget and overall goals to create programs that impact a company's productivity from day one. Whether you are just looking to offer access to our stress reducing recorded meditations to each member of your team, or you want us to play a more proactive role in "teaching" your team to meditate, we can help.
If you want to provide tools and trainings to:
· Bring down stress and boost creativity
· Reduce the overall number of your workforce's sick and absent days
· Increase company moral, workplace satisfaction, and employee retention
· Grow confidence in your managers so that they become better leaders…
· Increase "emotional intelligence" in the workplace.
· Greater communication, empathy and employee and customer engagement
· Conscious leadership training that boost your bottom line
Then the Meditation Prescription is for you!
Real world experience
Over the last 10 years we have delivered more than 1000 seminars and specialized trainings. We've been hired by a variety of clients from numerous industries, including healthcare and technology companies. And, we've helped some very traditional organizations transform their leadership culture via non-traditional methods. Our methods work!
Let the Meditation Prescription be your equivalent of having a "Chief Wellness Officer" on staff. We're available to help reduce stress, decrease employee sick and absent days, and boost morale and productivity in your workplace. The bottom line is – by introducing meditation and wellness practices into your office environment, it will help your employees and benefit the bottom line of your company. All it takes is a small investment of time to implement a practice that has a 5000 plus year track record of success.
Research Highlights
Since the early 1950s studies on meditation have been performed. While these early studies had multiple flaws and yielded inconclusive data, more than 1000 recent research studies have been published on meditation programs in over 160 scientific journals in more than 30 countries, and these studies conclude that meditation can lead to numerous health benefits including:
Decreased medical care utilization and hospitalization
Reduced cardiovascular disease risk factors
Decreased depression, anxiety and insomnia
Reduced stress and pain
A boost to the immune system
The reversal of aging and increased longevity
A reduction of high blood pressure
Reversal of poor brain function
We invite you to Review the Research for yourself. Seeing really is believing!
Why start meditating?
Every week 95 million Americans suffer from some kind of stress-related symptom for which they take medication. That means that one in three Americans are on a drug because of STRESS! It is safe to say that stress may be the largest issue that our medical and psychological communities face today, and it's just getting worse.
It is estimated that 75–90 percent of all visits to primary care physicians are for stress-related illnesses. These include colds, the flu, weight issues, stomach problems, chronic pain, high blood pressure and more. Stress has also been linked to more serious conditions such as depression, cardiovascular disease, HIV/AIDS and cancer. If and when you suspect a patients' health is being negatively impacted by stress, you should consider prescribing a meditation practice. Studies show substantial bodily changes as a consequence of a regular meditative practice. To learn more, visit the Meditation and the Body link above.
If and when you decide to prescribe a meditation practice, know that you won't be alone. According to a recent study from Harvard Medical School, every year more than 6 million Americans are advised to use meditation and other mind-body therapies by conventional healthcare providers. The National Institute of Health, the Mayo Clinic, the Cleveland Clinic, and Harvard Medical School are just a handful of esteemed institutions that are expounding on the multiple benefits of mediation.
What Does a Meditation Practice Look Like?
Many scientific journals state that one can attain curative results by just taking 20 to 30 minutes a day to do some form of meditation, with 45 minutes a day, five days a week being the optimal amount. Meditation to those that do it on a regular basis is fondly known as "a practice". The term "practice" in this regard, really just means to make a commitment to take some time to sit and be still with oneself for a set period on a regular basis.
There are many forms of meditation. Our specialty at the Meditation Prescription is recorded guided meditations that help alleviate stress, because as we stated earlier, stress is the number one cause of all illness. Our meditations include guided imagery, self- introspection, affirmations, mindfulness, deep breathing and the most cutting edge techniques available to help your patients quickly and easily develop a practice specific to who they are and what they need. These meditations were developed over the past decade based on our direct experience working with more than 10,000 individuals seeking to reduce stress and increase overall wellness and happiness in their lives.
Our goal is to expose individuals to a wide range of meditative practices so that they may determine what works best for them. We invite you to check them out for yourself!